Oak Wilt Treatment
- San Antonio, New Braunfels and Boerne
Oak wilt is a serious tree disease affecting primarily live oaks and red oaks in much of Texas and throughout the midwest. Should your oaks be threatened or infected by oak wilt, you should contact us; we are specifically trained in oak wilt management to properly diagnose and treat your trees.
BEWARE OF FRAUDULENT CLAIMS ABOUT ORGANIC REMEDIES OR CORN MEAL AS A TREATMENT FOR OAK WILT. UNFORTUNATELY THIS MISINFORMATION CONTINUES TO BE SPEWED OUT AND WORSENS THE PROBLEM. Go to www.TexasOakWilt.org for science based information that can be relied on.
With over 25 years experience working with trees Tree Doctor specializes in Oak Wilt Treatment throughout Central Texas.
Oak Wilt Treatment Services
Oak Wilt Identification
Laboratory Confirmation
Management Plans
Macro-infusion protocol as recommended by Texas A&M and the Texas Forest Service using Alamo fungicide injected into flare roots of trees.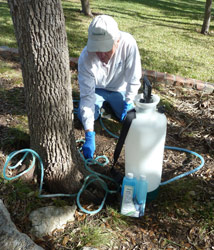 Dayton Archer is a Certified Texas Oak Wilt Specialist: #0005 and has the new ISA designation Oak Wilt Qualified
Call (210) 826-8555 or click to contact Tree Doctor online.
---
Certified Arborist | San Antonio, Texas
Tree Doctor is located in San Antonio & provides Tree Care Services throughout Central & South Texas. Including the towns of San Antonio, Comfort, Boerne, Kerrville, Fredericksburg, New Braunfels, Hondo, & the counties of Comal, Kendall, Kerr, Gillespie, Medina, Bexar, & more.
---
Need a tree expert to answer questions and fix landscape problems? diagnosis, treatment, and consulting call 210.826.8555