Tree Consulting
- Tree Doctor – San Antonio, New Braunfels and Boerne
Professional Tree Consulting is an important service offered by Tree Doctor. For information on consulting please Contact Tree Doctor today.
Consulting services include:
Tree Risk Assessment
We now have the Arbotom®, the most advanced equipment available to detect and evaluate decay in trees. This device is non-invasive and non-destructive. It uses sound wave technology to distinguish between healthy wood and decayed wood or voids to provide a clear picture of what is going on inside your tree. It also can locate and evaluate structural roots without invasive digging. This information is invaluable in making decisions on keeping or having to remove valuable trees.
Diagnostics
Evaluation of tree health is a complex issue that involves site, weather, climate, cultural management, and a variety of biotic and abiotic impacts. You need professional advice to make good management decisions.
Tree Protection
Site evaluation and protective measures are necessary prior to developing an area that impacts tree and root zones. It is much easier to protect valuable trees than to correct mistakes after the fact. Call us to protect your valuable tree assets from harm.
Tree inspections before buying property
It is important to have trees and landscape inspected to see what you are getting into. Your trees should be evaluated for risk analysis, disease, and desirability before buying a property or planning construction. It could effect the purchase price if trees are diseased (think Oak Wilt) or will require expensive treatments.
Tree Appraisals
When something bad happens and you need to put a monetary value on damage you need an expert with the credentials to provide a credible appraisal. Tree Doctor has up to date training in current appraisal methodology and over 25 years experience in buying, selling, managing, and caring for trees.
Call (210) 826-8555 or click to contact Tree Doctor online.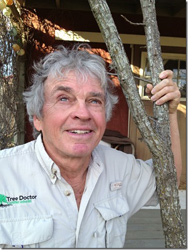 ---
"I believe we need more trees and less concrete"
Certified Arborist | San Antonio, Texas
Tree Doctor is located in San Antonio & provides Tree Care Services throughout Central & South Texas. Including the towns of San Antonio, Comfort, Boerne, Kerrville, Fredericksburg, New Braunfels, Hondo, & the counties of Comal, Kendall, Kerr, Gillespie, Medina, Bexar, & more.
---
Need a tree expert to answer questions and fix landscape problems? diagnosis, treatment, and consulting call (210) 826-8555.